His name is Finnick Jonah Odair Jr.
Relatives
Edit
He is the son of Annie Odair and Finnick Odair. He is the older brother of Clarissa "Clary" Jane Odair.
Finnick (or Junior) is 17.
He is from District 4.
Best friend
Edit
His best friend is Posy Katniss Hawthorne, but he doesn't know how she feels for him and sorta likes Primrose Rue Mellark, but Posy doesn't know.
Appearance
Edit
He has golden bronze hair and Annie's dark green eyes.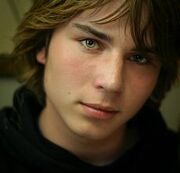 Ad blocker interference detected!
Wikia is a free-to-use site that makes money from advertising. We have a modified experience for viewers using ad blockers

Wikia is not accessible if you've made further modifications. Remove the custom ad blocker rule(s) and the page will load as expected.